Development of Custom Molded Polymer Fittings for the Plumbing Industry
A major manufacturer of plumbing products wanted to develop a new line of fittings molded from Polyphenylsulfone, an engineering grade resin, to replace the brass fittings they had been manufacturing. This advanced material processes at 700°F with mold temps of 250°F.
Initially, Port Erie built eight molds and qualified the fittings; subsequent molds were built to replace the rest of their brass line. Eventually, Port Erie built 30+ molds for the polysulfone fittings including tees, elbows, adapters and manifolds.
Port Erie Plastic's advanced manufacturing capabilities provided the precision machining required for the new tooling, which was machined from 420 stainless steel, to produce parts with tolerances of ±.0015".
However, there was much more to this fittings program. An additional 120+ existing molds were transferred to Port Erie. These molds, which produce 450+ different parts, had previously been in service in the customer's plant. By transferring the molds to Port Erie the customer was able to glean significant cost savings. A dedicated assembly area was established to assemble a host of molded, as well as purchased components into finished valves, fittings and manifolds of various sizes and configurations.
Port Erie provided this customer a complete solution, which also included packaging and fulfillment for more than 1,200 SKUs for both retail and wholesale accounts. These parts included tees, couplings, elbows, valves, connectors and manifolds. In addition, they also purchased and packed a line of metal fittings. These custom chemical drainage fittings can be machined to meet customer specifications.
To learn more about this project, or all the ways that Port Erie can take cost out of your injection molding, insert molding, or tooling needs, contact Port Erie directly.
Click to Expand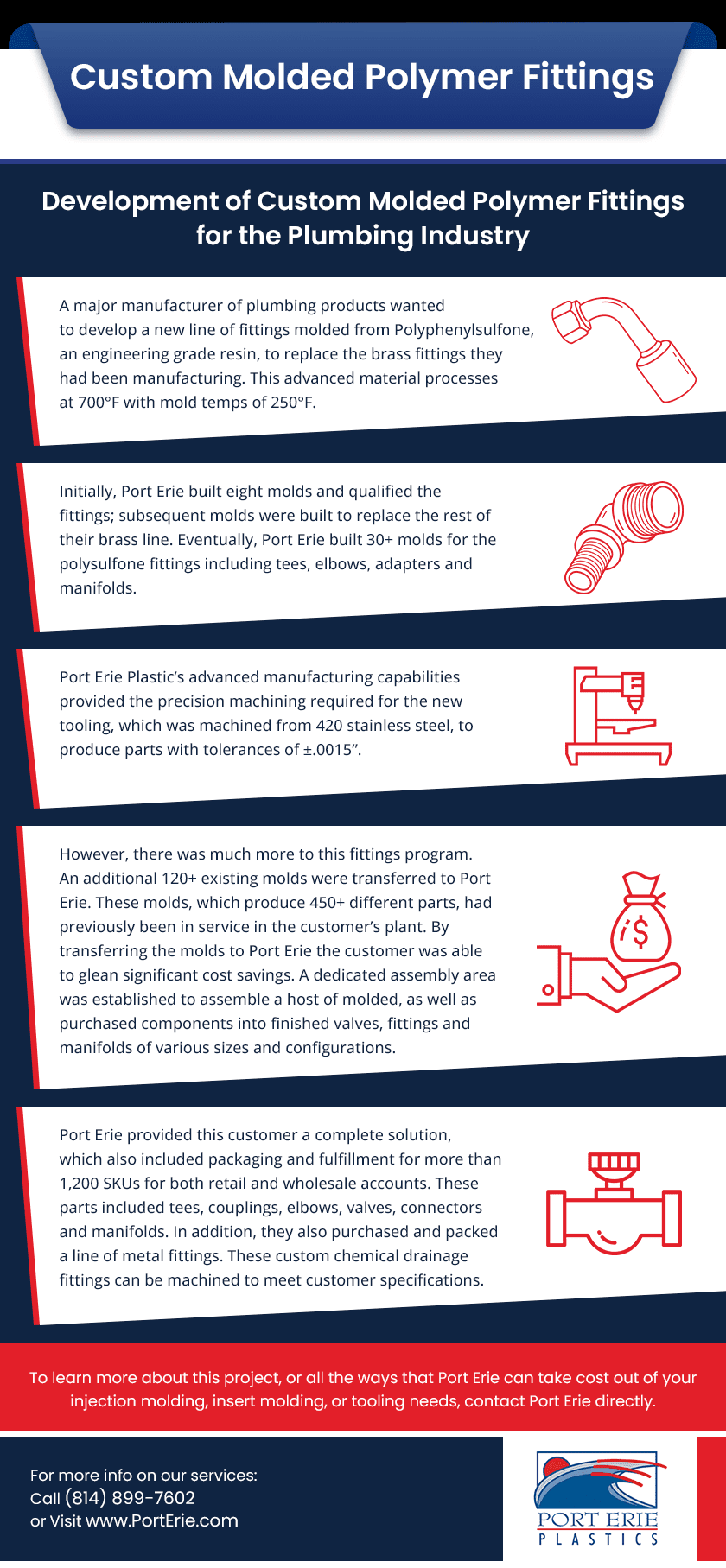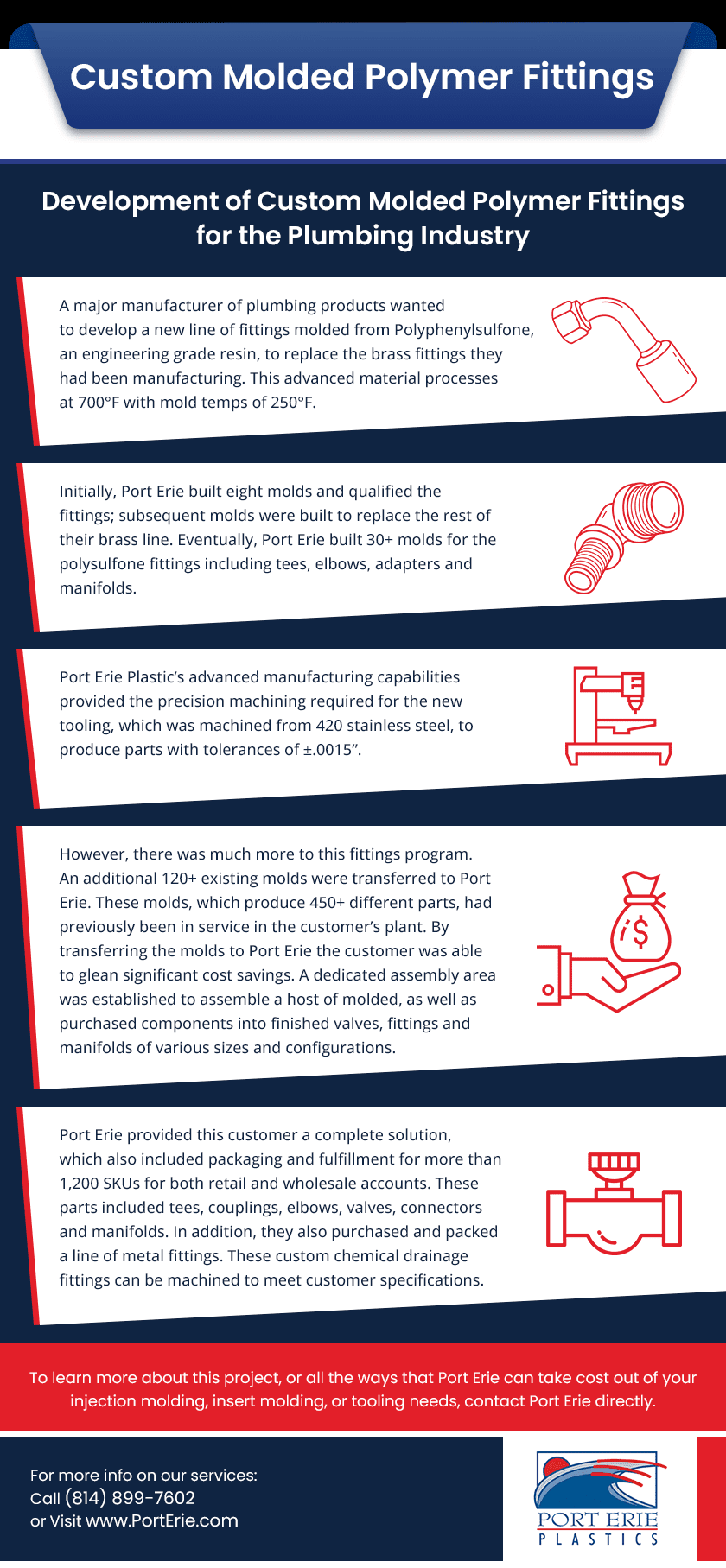 Highlights of this Co-Engineered Injection Molding Project
Product Name

Fittings
Product Description

These parts are used in Plumbing Systems to connect pipe sections.
Industry for Use

Construction, Plumbing
Applications

Potable Water, Radiant Heat, Chemical Drainage
Capabilities Applied/Processes

Primary:
Product Development
Tooling Design
Mold Build
Component Sourcing
Injection Molding
Insert Molding
Tooling

Molds
30+ Built at Port Erie; More than 120 Transferred Here
Tooling Material Used

420 Stainless Steel
Equipment Used to Make Tooling

High Speed CNC Machining Centers
Precision EDM
Equipment Used to Manufacture Parts

55 ton – 700 ton Injection Molding Machine

Some Parts Require Insert Molding
Overall Part Dimensions

Part Size: ½" dia. – 4" dia.
Part Weight: 2.8 g – 2270 g.
Tightest Tolerances

± 0.0015"
Material Used

Polyphenylsulfone (PPSU)
Acetal (POM)
Flame-Retardant Polypropylene (FRPP)
PolyvinylideneFluoride (PVDF)
Polyvinyl Chloride (PVC)
In Process Testing/Inspection Performed

Audits:
NSF, IAPMO (International Association of Plumbing Mechanical Officials) Intertek, UL

QA:
Ensure Products are Meeting ASTM Standards
ISO Compliant Quality Program
Volume

No. of SKUs: 1,200+
Delivery/Turnaround Time

J.I.T Shipment
All SKUs in Stock and Managed to Min/Max Levels
Fulfillment
Standards Met

Customer Specifications, 2D CAD Drawing
Secondary Operations

Assembly
Machining
Bagging
Bar Coding