Turnkey Plastics Manufacturing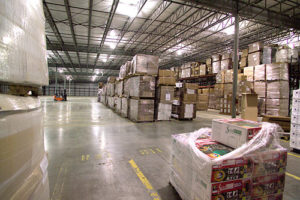 As part of our turnkey plastics manufacturing solution, we offer complete warehousing and distribution services, providing our customers with a single source solution for all logistical requirements. We operate two separate 100,000-square-foot warehouses and one 75,000-square-foot storage facility to meet product and contract fulfillment, long term storage, as well as the seasonal storage needs of our customers. We handle fulfillment to all big box retailers so customers can simplify their supply chain and lower overall costs. We also handle JIT delivery of our molded parts to our customer's manufacturing locations.
We understand the necessity of on-time delivery and offer client reports, EDI capability, and lot control to ensure that the right parts are shipped to the customer on schedule, every time. Our experienced staff ensures we operate with ISO 9000 compliance using the latest logistics and inventory management practices. For more information about our warehousing and distribution services, see the table below or contact us directly.
Case Studies