Structural Foam Molding and Extrusion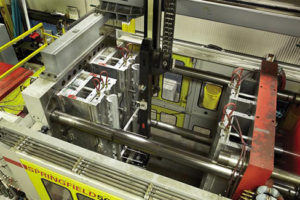 Port Erie's bread-and-butter is injection molding, but sometimes another means of processing plastic is a better way to make a part. Our engineering talent has enabled us in recent years to add structural foam molding and extrusion to meet our customers' needs. We typically process polyethylene and polypropylene in these machines. Our structural foam molding process allows us to produce parts with a typical wall thickness range of .200" to .500". The parts can be up to 7.5' in length and the structural foam process actually allows for running more than one mold at the same time in a single machine. Our low-pressure structural foam machines have platen sizes of 98"x89" and tie bar spacing of 58.5"x67.5". The shot size is up to 150 lbs. We are happy to quote any new or existing structural foam projects.
Our extrusion lines are captive. Still, we think it is important to highlight these capabilities because they illustrate the strength and depth of Port Erie's engineering and manufacturing capabilities. Our existing injection molding customers were pleased enough with the way that we handled their injection molding projects that they asked us to take on these new and challenging processes. And, Port Erie has the financial and technical resources to succeed in these endeavors.
Case Studies