March 2016
Port Erie Plastics: Giving You the Business
Port Erie Plastics began in 1953 in a tiny building with just one injection molding machine.
It is now one of the biggest plastics companies in our region, with more than 500,000 square feet of manufacturing and warehouse space, and about $60 million in annual sales.
Port Erie Plastics has about 400 employees working 3 shifts a day. Managers say the workers are one of the keys to the company's success.
Manufacturing Manager Joseph Deutsch said, "We treat our people very well. Retention is key. You need good quality trained people. That is the key to success.
Another key, unlike many other plastic processors, Port Erie makes its own molds used to make plastic parts. Engineers use computers to design the molds. Then precision machines cut the molds out of metal. Doing the work in-house says money and ensures quality.
Making quality parts has been critical in keeping the company growing and expanding. And that trend is expected to continue.
President John Johnson said, "We're excited about where we are going. We are on a growth pattern. We certainly hope to continue that.'
---

December 2013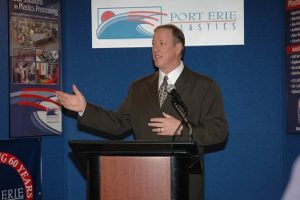 Pro Football Hall of Fame Quarterback Jim Kelly Announces the Partnership of his Company, MyFanClip, with Harborcreek, PA-Based Port Erie Plastics
Pro Football Hall of Fame Quarterback Jim Kelly is proud to announce the partnership of his company, MyFanClip, with Harborcreek, PA based manufacturer Port Erie Plastics. MyFanClip produces licensed and custom multi-purpose clips for use as money clips, chip clips, and paper clips; other uses include coffee bags, school papers, business cards, and legal documents.
"I'm happy to announce this partnership with Port Erie Plastics," said Kelly. "MyFanClip is a quality product, proudly made in the USA. The fact that local schools and sports organizations can use it to raise money is something that makes me truly happy. With a portion of the proceeds supporting my son's charity, MyFanClip is a win for everyone involved."
After years of using rubber bands and binder clips as money clips, Kelly was determined to launch a company that would make these clips with team logos. Following an exhaustive search for a manufacturing partner, and even an initial small production run by a Chinese company, Kelly was referred to Port Erie Plastics. Kelly's vision has now become a reality.
A family owned company founded in 1953, Port Erie Plastics is a full service custom injection molder that has its own tool room and distribution warehousing operation. That allows the company to handle projects like MyFanClip that required building a new mold, decorating molded parts, sourcing metal components, assembly and product fulfillment. With ample experience in several methods of plastics decorating – including pad printing, heat transfer and in-mold decorating –Port Erie made a significant investment in digital printing equipment for this project.
MyFanClip's licensed NFL, NASCAR, and NCAA products are currently available on Amazon.com, Fanatics.com, The Outdoor Shopper, and at many other retail locations, including Tops and Wegmans. More licensed categories are coming soon, including Major League Baseball, NHL, and Duck Commander.
Just as important as licensed product, however, is that the partnership with Port Erie Plastics allows MyFanClip the production agility necessary to produce relatively small orders for local high schools, colleges, clubs and organizations. These products are highly unique and can be used as giveaways or sold as fundraisers.
According to Kelly, MyFanClip's partnership with Port Erie Plastics is a keystone relationship for the future of his new company, allowing for great growth opportunity moving into 2014 and beyond. Port Erie president John Johnson agrees.
"We are excited about partnering with Jim Kelly," Johnson said. "As a lifelong Bills fan and longtime season ticket holder this project has been extremely fun, but it also shows what innovative American companies can do to win back business from Asia. Just as Jim Kelly personified the competitive spirit on the football field, Port Erie competes every day with Third World manufacturers and we are winning more than we are losing. This is the kind of product that a few years ago would have been produced in China."
Port Erie celebrated its 60th anniversary in September and is owned by the Witkowski family. William C. Witkowski is the majority owner and CEO. The company has developed strong relationships in the plastics industry and supported the industry's growth and innovation through its support of Penn State's Plastics Engineering Technology program on the Behrend campus. Port Erie has 90 injection molding machines, eight extrusion lines, two blow molders and two low-pressure structural foam machines. Port Erie employs 350 people.
Further building the regional feel of MyFanClip, Port Erie Plastics engaged Rochester, NY based CJK Thermoforming Solutions to manufacture the clamshell packaging for MyFanClip's signature 2-packs.
A portion of the proceeds from sales of MyFanClip goes to benefit Hunter's Hope Foundation. Hunter's Hope was established in 1997 by Jim Kelly and his wife Jill, after their infant son, Hunter (2/14/97—8/5/05) was diagnosed with Krabbe Leukodystrophy. The Foundation is the Kellys' lifelong commitment to increase public awarenesss of Krabbe disease and other leukodystrophies, as well as to increase the likelihood of early detection and treatment. Their highest priority is that every newborn in every state be tested for every possible disease, saving the lives of thousands of children through Universal Newborn Screening. The Foundation also strives to find research efforts that will identify new treatments, therapies, and a cure for Krabbe disease and other leukodystrophies.
"In business, just like with football, you have to surround yourself with the right players," Kelly said. "With Port Erie Plastics, we've found the right team to really make MyFanClip a huge success. I'm really looking forward to 2014 and beyond."
Port Erie & Jim Kelly announce their partnership:
You can also read more here: