Port Erie Plastics has grown tremendously over the past 60+ years. Our 615,000 square foot manufacturing and warehouse complex, located on 69 acres, gives us the ability to handle tooling transfers of any scale, not to mention an abundance of capabilities for injection mold design. Port Erie Plastics has an on-site, full-service tool room and nearly 90 machines for plastic injection mold fabrication. We provide quality injection mold designs and convenient tooling transfer services, all while being dedicated to giving back to the community.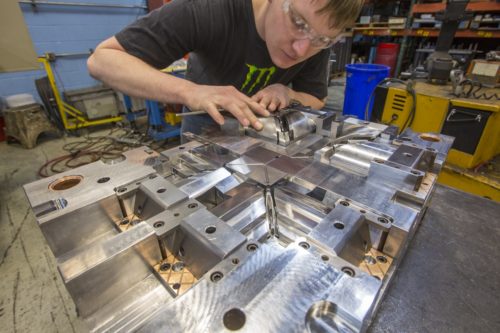 Full-Service Tool Room for Mold Design
At Port Erie Plastics, we know what it takes to compete with global plastic mold builders, and we do it every single day. We have a full-service tool room on site and a reputation as a quality provider of new molds at competitive prices even when compared to shops overseas when factoring in all costs. We have significantly invested in equipment that allows us to build large molds that run in our 1650 ton molding machines. Plus, we fully guarantee all molds that we build in-house.
The types of molds we can produce include:
Single cavity molds
Multi-cavity molds
Stack molds
Hot runners
We have extensive machining capabilities including CNC milling, CNC EDM, wire EDM, grinding, turning, and drilling equipment that allow us to produce precision tooling from P-20 tool steel, stainless steel, hardened steel, or aluminum, depending on the part production volume and application.
Port Erie Plastics can perform mold flow analysis when needed. We complete this process before the mold building  process begins to simulate the molding. Mold flow analysis uses special software to simulate how the mold fills with plastic. This can help identify injection pressure needed, any potential air traps, and heating/cooling time.
Tooling Transfer Services
In addition to mold fabrication, we provide a comprehensive injection molding tooling transfer program. We can take existing tooling, facilitate the transfer to our facility, inspect, make repairs, and perform complete verification testing. This minimizes downtime in order to get your tooling back into production quickly.
When a customer wants to move their project from another company to Port Erie Plastics, we will offer our assistance to ensure the transfer of all relevant information. We can utilize our resources to minimize downtime.  It's not uncommon for us to have a mold in production 48 hours after arriving, but proper planning is key.  We can help you evaluate safety stock, raw material transfers and QA requirements to plan a successful move.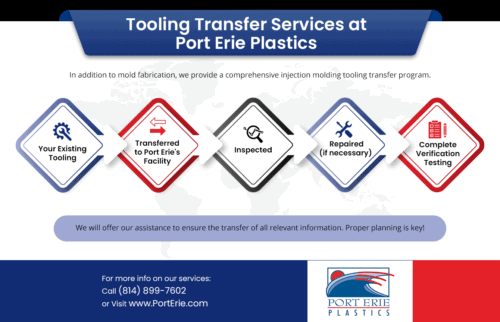 Trust Port Erie Plastics for Your Injection Mold Fabrication or Tooling Transfer
Port Erie Plastics is your complete solution for custom injection mold design and superior tooling transfer services. See the list below for a full list of our capabilities and solutions, and contact us today for more information.
Case Studies