Assembly, Decorating, Fabrication, Ultrasonic Welding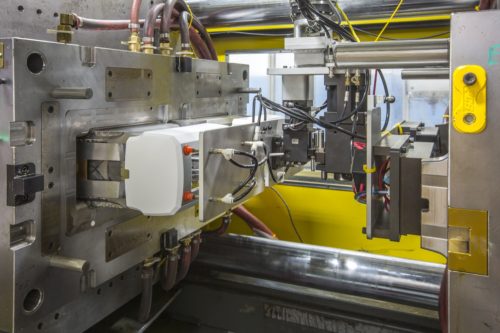 Port Erie Plastics offers a wide array of secondary operations, such as assembly and decorating services, as part of our turnkey manufacturing solutions.
Our experience with assembly is extensive. We drill holes with 6-axis robots, ultrasonically weld inserts, and tackle complex product assemblies that can require multiple molded parts in addition to incorporating purchased components sourced domestically and overseas. We assemble kits and bag pack-outs. The end markets served by our customer base are diverse. For example, we have structural foam fabrication capabilities to build and print large custom trench assemblies that are shipped directly to construction job sites. We also handle high-volume assemblies destined for big-box retailers. We develop vision system inspection stations to verify assemblies.
For decorating, we pad print, heat transfer, hot stamp, and perform in-mold decorating. Depending on the job requirements, we decorate both at the injection molding machine and in a dedicated, climate-controlled room. We can also insert molded plastic around metal parts and then decorate the plastic.
In addition, we can warehouse and drop ship products, further streamlining the supply chain. For more information about our secondary operations, see the table below, or contact us directly.
Case Studies