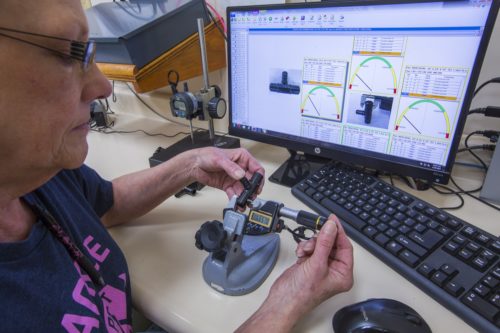 Port Erie offers our customers tremendous engineering support. We have a staff of about a dozen degreed plastics engineers, and each customer is assigned a project engineer who serves as the chief technical liaison. Our customers have come to see this as a tremendous competitive advantage. Our engineers work hard to support our customers in various ways. They help source alternative resins that are more cost effective; they can offer ideas to manufacture more efficiently; they offer advice on new tooling designs or existing tool modification. We also have engineers who work primarily on automation projects using robotics and other technology on cost-saving projects. We design and build much of our equipment used for assembly and secondary operations. These can be work stations to install metal inserts and use vision systems for verification, or they can be refurbished 6-axis roots that drill more than a dozen precision holes in a part.
TYPICAL ACTIVITIES BY OUR ENGINEERING STAFF:
Interact in quoting stage of new jobs supplying technical information and expertise.
Provide guidance to customers from initial concept and product development all the way through production to ensure success.
Work with customers and tool shops to review mold prints, parts prints and models prior to mold build.
Qualify new jobs until they are production ready, then ensure they meet the customer's needs.
Create and issue all procedures, documentation, and any relative information so jobs run efficiently in production.
Work with customers to develop a quality control plan.
Monitor each assigned project during production looking for continuous improvement.
Our engineering staff has the ability to be creative thinkers with good communication and problem solving skills.
Work under tight timelines with a high sense of urgency.
Case Studies