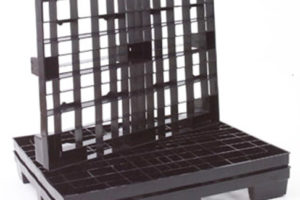 The Skidmarx® plastic pallet is affordable enough to use as a one-way pallet, yet durable enough to get repeated use in the right situation.
We developed the pallet to compete in the one-way arena, and probably half of our pallet customers use the Skidmarx® as a one-way pallet. Many of these companies ship product overseas on this pallet to avoid fumigation and certification hassles due to concerns over insect infestation.
This is a 9-leg pallet with an open deck construction. It weighs less than 16 lbs. and measures roughly 40″x48″x6″ with 4-way entry.
The pallet can handle as much as a 2,000 lb evenly distributed uniform load. For closed-loop applications where an extended life is desired, we try to steer the pallet into applications where the load is 1500 lbs or less.
For pricing, call 1-800-SKID-113.
Port Erie also manufactures its own line of plastic tubular clothes hangers and furnace filters. For more information, please call us directly at 814-899-7602.
Case Studies