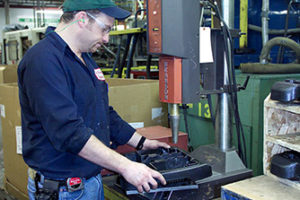 On a November weekend, Port Erie spent a busy few days helping a new customer who had serious concerns with the financial viability of their existing molder. In support of this manufacturer of medical products, we showed up at the previous molder's facility at 4:30 p.m. on Friday afternoon to pick up eight molds and some secondary equipment. The customer needed a seamless and quick transfer of production, because they needed parts by the following Tuesday to keep their assembly line from shutting down.
Before manufacturing of the parts could begin, all the molds were inspected in our tool room. Our tool room staff had to replace water and hydraulic fittings to PEP compatible styles. Core switches also had to be replaced. On the manufacturing floor, low-level alarms in the color-and-blowing-agent hoppers needed to be installed. By 4:30 p.m. that Saturday we had all eight of their tools ready to shoot and a PEP engineer assigned to start each mold. The customer was on site to approve parts.
Molding required the use of injection molding equipment that varied in size from 100 to 850 tons. The finished parts were composed of a high impact PS – A Tech 1115A HIPS. The eight parts produced varied greatly in weight, from .05 lbs. to 5.75 lbs. Manufacturing also required a number of ancillary processing and assembly procedures; this included a 16 hole, 6-size precision drilling operation, installation of press fit parts, various ultrasonic brass inserts, and the installation of Velcro and foam pads.
Our purchasing department also played a vital role in this endeavor; they were in continuous contact with our plumbing vendors throughout the weekend, keeping us supplied with all the required fittings, hoses, and a nice bar tab at the Fireside on Saturday night. Through this effort by our entire team, we began full production, getting completed parts to the customer's assembly line by Tuesday.
To learn more about this project, or the processes used to complete it, contact us directly.