In-house Tool Room and Tooling Transfer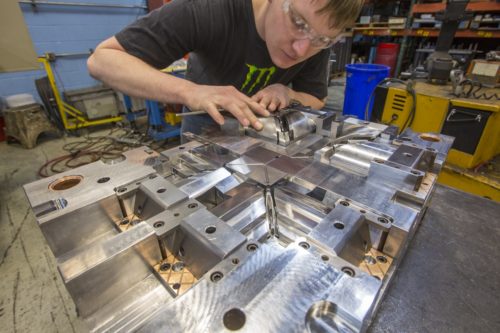 At Port Erie Plastics, we know what it takes to compete with Asian mold builders, and we do it every day. We have a full-service tool room on site and we have developed a reputation as a quality provider of new molds at prices that stand up well when compared with overseas. We have invested significantly in equipment that allows us to build large molds that run in our 1650 ton machine. We will fully guarantee all molds that we build in-house and domestically.
We can produce single and multi-cavity molds, as well as stack molds and hot runners. We have extensive machining capabilities including CNC milling, CNC EDM, wire EDM, grinding, turning, and drilling equipment, that allow us to produce precision tooling from P-20 tool steel, stainless steel, hardened steel, or aluminum, depending on the part production volume and application.
In addition to mold fabrication, we provide a comprehensive injection molding tooling transfer program. We can take existing tooling, facilitate the transfer to our facility, inspect, make repairs, and perform complete verification testing. This minimizes downtime in order to get your tooling back into production quickly. For more information about our injection mold fabrication or tooling transfer program, see the table below, or contact us directly.
Case Studies